Cataracts are the leading cause of blindness, according to the World Health Organization. By age 65, 90% of people will have developed cataracts. Those that are age 65 or older in need of cataract treatment are in the qualifying age group for Medicare.
In 2015, 20 million cataract operations were performed worldwide with 3.6 million of them taking place in the United States. Generally, Medicare does not cover vision care expenses; however, Medicare covers all costs relating to medically necessary services, like cataract surgery.
Cataract surgery is an outpatient procedure where a doctor will replace the effected lens with an artificial lens. The surgery has a 99% success rate.
Occasionally, a doctor may suggest a nonsurgical treatment depending on the necessity of surgery and type of cataracts.
Depending on your health plan, Medicare coverage usually includes the removal of the cataract, implantation of a basic lens replacement, and one set of prescription eyeglasses post operation. Patients typically see results within two to three days post operation. Your eye should then be comfortable and your vision should be clear.
If your doctor recommends a more advanced lens to suit your needs, Medicare patients may have to cover the cost difference themselves. Luckily, many offices – including Capitol Eye Care – offer special financing to manage extra costs. Don't let your finances deter you from seeing the world clearly!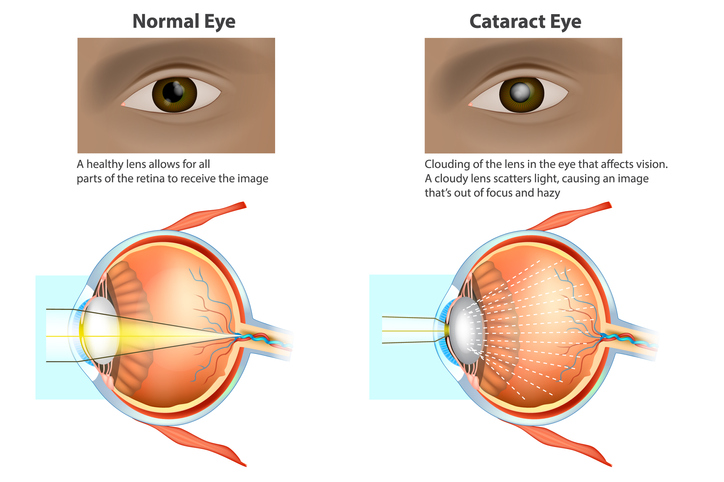 Other procedures associated with cataract surgery that may incur additional costs:
● A comprehensive eye exam, including precise measurements of your eye to determine the proper power lens implant
● Charges related to anesthesia personnel such as an anesthesiologist or nurse anesthetist.
● Charges related to the surgical facility (outpatient surgery center)